Catherine Gowing: Police secure more sites in missing vet search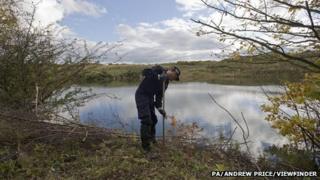 Police searching for missing vet Catherine Gowing are "securing several scenes" in Flintshire following a large number of calls from the public.
The North Wales force said officers were trying to establish the significance of the sites.
It said a tent erected at Manor Lane, Sealand, was "standard" apparatus and no further information was available.
Irish-born Miss Gowing disappeared on Friday 12 October when she was spotted leaving a supermarket in Queensferry.
Until now, the search for her has been concentrated on a disused quarry site at Alltami, where her burnt-out car was discovered nearby.
On Tuesday, Sgt Neil Parks said: "It's important we don't fall into the trap of searching for searching's sake.
"And therefore all searches have to be done on intelligence basis."
He added: The search continues until the intelligence runs dry.
"Nothing has changed. The focus remains on finding Catherine."
Clive Sharp, 46, has been charged with her murder and has been remanded in custody until 7 January.