Penlington-Pennington Denbighshire vote mix-up: Recount in London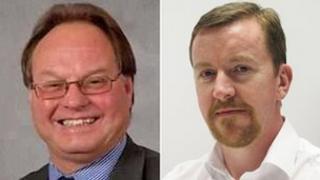 A council election recount is being held after a Labour candidate's votes were wrongly given to a Conservative with a similar name.
Tory Allan Pennington polled 580 votes to win a Prestatyn North seat in Denbighshire May while Labour's Paul Penlington secured 366.
The council said the result would have been reversed if votes had been correctly allocated.
In July the High Court ordered the recount, which is being held in London.
Mr Penlington petitioned the High Court to have the result overturned.
The judge ordered the recount which will take place amid conditions of strict secrecy in front of a court official.
Both election candidates and council representatives will also be present.
The result of the recount may not be known on Monday.
Labour became the biggest party in Denbighshire in the May election, winning 18 of the 47 seats, although the county is controlled by an independent-led coalition.
Independents won 12 seats, Conservatives nine, Plaid Cymru seven, and Liberal Democrats one.