Corwen Pavilion's fate still undecided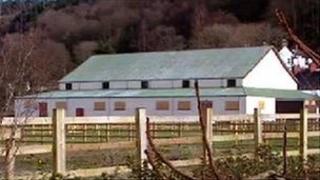 The future of a Denbighshire town's community building remains undecided with campaigners vowing to fight plans that would see it demolished.
Corwen Pavilion closed in March 2010 because of health and safety issues.
Repairs were estimated at £1.3m and Denbighshire council planned to demolish it and pass the land to a community group to build a new venue.
But the demolition was delayed by a court injunction and the council will now discuss the issue next month.
Campaigners from Save the Pavilion say the building has played an important part in Welsh culture throughout the 20th Century.
It has hosted several concerts and Welsh cultural festivals.
The issue has now been placed back on the council agenda after being held up by legal discussions and other issues.
Builder Esmor Davies, a member of the Save the Pavilion group, said: "Nine or 10 months has gone and nothing has been done about it.
"It's appalling," he said, adding that the delay would only worsen the condition of the building.
Demolition was due in April 2011 but it was delayed by a court injunction to give the campaign group time to come up with a viable financial plan for the building.
A court hearing was then due to be held in December 2011 but delayed due to a lack of consent from the Charity Commission.
The commission has confirmed it has consulted with Denbighshire council regarding demolition.
'Dangerous building'
The council in its role of trustee is now due to discuss the issue again at a cabinet meeting at the end of November.
It will then be up to the courts early next year to make a decision.
A spokesperson for Denbighshire council said if the court was to side with county officials then demolition could take place as soon as possible.
Councillor Huw Jones said the issue should have been sorted some time ago.
"It's a dangerous building," he said. "It needs to be resolved as soon as possible."
He said Denbighshire council was committed to help provide a new building and that the authority "would not walk away".