Catherine Gowing: Car found belonged to missing vet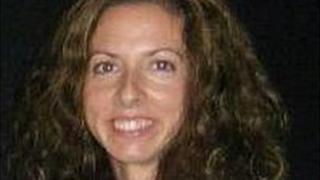 Police searching for a missing woman feared murdered have confirmed a burnt out car found by officers was hers.
The Renault Clio was found close to a disused quarry near 37-year-old Catherine Gowing's home in New Brighton, Flintshire.
Miss Gowing, a vet who is originally from Ireland, has not been seen since a sighting at a supermarket last Friday.
A 46-year-old Gwynedd man has been arrested on suspicion of murder.
Police say he is known to Miss Gowing.
One line officers are investigating is that he is the boyfriend of her housemate, a fellow Irish woman and vet at the same surgery.
Det Supt John Hanson of North Wales Police gave details of the latest developments in the search to a news conference on Friday afternoon.
"I can now confirm the Renault Clio motor vehicle found in Pinfold Lane, Alltami, near Mold, yesterday evening [Thursday] at 7.15pm has been identified as the car belonging to Catherine Gowing," he said.
"All our efforts continue to find Catherine.
"The Renault Clio was found in an isolated area of Pinfold Lane close to a disused quarry, surrounded by woodland, and near to a quarry pool.
"The vehicle is completely burnt out."
A member of the public contacted police after finding the vehicle about two miles (3.2km) from her home.
Det Supt Hanson said the area would be cordoned off for some time while a "comprehensive search and extensive examination" took place.
This will involve "police resources from across north Wales including specialist search dogs and underwater search teams", he said.
He said this was not the only search area as specialist teams would be examining other locations.
Officers are also carrying out house-to-house inquiries and examining CCTV footage.
Police have appealed for anyone who was in the area of Pinfold Lane, or who has information about Miss Gowing's movements, to get in touch.
"I still need the public's assistance. Have you been in Alltami, were you in Pinfold Lane and saw anything?" said Det Supt Hanson.
"Were you walking your dog in the area, have you seen anything that will help us find Catherine, anything that will ease the pain that Catherine's family is going through?"
Miss Gowing, who is originally from Kinnity, near Birr, in County Offaly in the Republic of Ireland, was seen leaving Evans Veterinary Practice in Clayton Road, Mold, where she works at approximately 19:00 BST on Friday 12 October.
'Very dear person'
Concerned colleagues called police after one received part of a phone text message and she did not turn up for work on Monday morning.
Vet David Esmor Evans described his colleague as a "very dear person", popular with pet owners who visited the practice.
He said she worked mainly with small animals such as pets and dogs since joining the surgery in May 2011.
"Everybody when they left the surgery thought their animal was the only one that mattered," he said.
Investigations by police have since found she visited Asda supermarket in Queensferry last Friday at 20:06 BST and left just over half an hour later.
CCTV images of her leaving the supermarket were released by police on Thursday.
Emma Gowing described her "beautiful sister" as the "light of my life" during an appeal for help at a news conference on Thursday.