Catherine Gowing: Friday sighting in Asda, Queensferry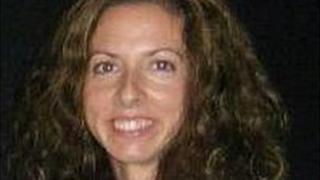 Police investigating the disappearance of a woman who is feared murdered say she was seen at a Flintshire supermarket on Friday.
Catherine Gowing, 37, was seen entering Asda in Queensferry at 20:06 BST and leaving just over half an hour later.
A 46-year-old Gwynedd man was arrested on Tuesday on suspicion of her murder and police have been given a 36-hour extension to question him.
Colleagues called police after one received part of a phone text message.
Police say the public's help in the search "cannot be emphasised enough".
In the new sighting, Miss Gowing was wearing blue jeans and a light brown/khaki fleece zipped top with white sleeves and white side panels.
She had plain black flat shoes and her brown hair was tied up. She had a bright brown saddle bag across her shoulder and body, and was carrying a plastic Asda bag and a pizza-type box.
'Out of character'
Police said the sighting was reported as a result of inquiries and their appeal.
Det Supt John Hanson said: "Our priority is to trace Catherine and we would urge anyone who has seen her or her Renault Clio, bearing the Irish registration plates 00D 99970, to contact the North Wales Police incident room on 101.
"This is totally out of character for Catherine and the public's assistance in the search cannot be emphasised enough."
Miss Gowing is originally from Ireland and her sister and brother-in-law have flown in to help the police search.
Her family are helping police build a picture of her friends and habits.
Detectives say they fear Miss Gowing has come to "significant harm".
Police said the arrested man "frequents the New Brighton area and is known to Catherine".
Detectives have declined to give further details about why the man was arrested but said it was a result of their investigations so far.
They say Miss Gowing, who is originally from Kinnity, near Birr, in County Offaly in the Republic of Ireland, was seen leaving Evans Veterinary Practice in Clayton Road, Mold, where she works at approximately 19:00 BST on Friday.
David Evans, owner of the practice where Miss Gowing had been based for 18 months, said staff became worried after receiving the text at the weekend.
He said: "One of the nurses was concerned about her on Saturday or Sunday because she had half a message from her, from her mobile phone anyway.
'Family are devastated'
"We thought, since her car was missing, we thought maybe she had gone somewhere for the weekend or got into some difficulty or something like that," he said.
"We informed the police as soon as she did not turn up for work at 9 o'clock on Monday morning. Then we left it to the police."
At a press conference on Wednesday police issued photos of her car and said finding the vehicle was their prime concern.
They said she failed to make a weekend appointment and did not turn up for work on Monday morning.
Miss Gowing's sister, Emma, and brother-in-law issued a statement via North Wales Police.
They said: "The family are devastated with the news and will try and come to terms with Catherine's disappearance.
"She is the light of our family and we can't imagine that light's gone."
They are currently being supported by family liaison officers.
Miss Gowing has lived in the village of New Brighton, near Mold, for the past two years.
She moved to Wales after qualifying as a vet from a university in Budapest, said RTE News.
In Ireland, parish priest Father Michael O'Meara said he had been speaking with Miss Gowing's parents Maureen and John.
He told RTE of a sense of shock and deep sadness about disappearance.
Father O'Meara said Miss Gowing was well known in the local community and had returned from Wales last Christmas to be with her family in Kinnity where she attended midnight mass.
Anyone who may have information relating to her whereabouts or who may have seen the car is urged to call 101 or Crimestoppers on 0800 555 111.