Catherine Gowing: Murder arrest over missing vet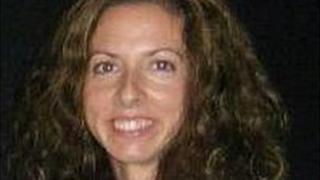 A man has been arrested on suspicion of murder after the disappearance of a woman, say North Wales Police.
Senior officers say they fear Catherine Gowing, 37, a vet, has come to "significant harm". She was last seen by friends in Mold, Flintshire, at 20:00 BST on Friday.
North Wales Police are trying to trace her burgundy/purple Renault Clio with an Irish registration plate 00D99970 which is also missing.
A man was arrested on Tuesday night.
Det Supt John Hanson told a news conference on Wednesday: "We are increasingly concerned about Catherine's welfare and we have no knowledge as to her current whereabouts.
"Catherine failed to meet a weekend appointment and did not turn up for work on Monday morning.
"This is totally out of character for Catherine who maintains regular contact with her family, friends and work colleagues."
Police have set up a major incident room.
Mr Hanson said initial inquiries resulted in the identification of a 46-year-old Gwynedd man who "frequents the New Brighton area and is known to Catherine".
He added: "This man has now been arrested on suspicion of her murder and he is currently being questioned at a local police station.
"The information which led us to arrest him forms part of our investigative strategy and it would be inappropriate for me to elaborate further at this time."
They say Miss Gowing, who is originally from near Birr, in County Offaly in the Republic of Ireland, was last seen leaving Evans Veterinary Practice in Clayton Road, Mold, where she works at approximately at 19:00 BST on Friday.
The force said their prime concern was to find Miss Gowing's car and they issued photos of the vehicle during the press conference.
"We urgently need to trace this vehicle as we strongly believe this will help us find Catherine," said Mr Hanson.
She has lived in nearby New Brighton for the past two years.
She moved to Wales after qualifying as a vet from a university in Budapest, said RTE News.
Miss Gowing's sister, Emma, and brother-in-law are in north Wales and assisting police to build up a better picture of her friends and habits.
Speaking via police, they said: "The family are devastated with the news and will try and come to terms with Catherine's disappearance.
"She is the light of our family and we can't imagine that light's gone."
They are currently being supported by family liaison officers.
In Ireland, parish priest Fr Michael O'Meara said he had been speaking with Miss Gowing's parents Maureen and John.
He told RTE of a sense of shock and deep sadness about disappearance.
Fr O'Meara said Miss Gowing was well known in the local community and had returned from Wales last Christmas to be with her family in Kinnity where she attended midnight mass.
Police want anyonewith information to contact them or Crimestoppers.