Hawarden Park Cricket Club on Gladstone estate move after 146 years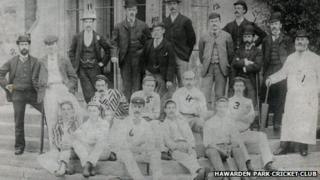 A historic cricket club, whose past players include prime minister William Gladstone and footballer Michael Owen, is moving after more than 140 years.
Hawarden Park Cricket Club, Flintshire, is based within the grounds of the Gladstone estate, ancestral home of the former prime minister.
Club bosses say they are relocating to enable them to extend practice sessions with land provided by the estate.
Gladstone turned out for the club after he became prime minister in the 1860s.
Club chair Jon Merrick explained the popularity of the club was "causing problems" for the Gladstone estate, particularly its farm shop business which is based nearby.
He said the estate has been "incredibly supportive" by providing land and not imposing any deadline about moving on.
But he admitted that "the two are rubbing up against each other".
"It will be a shame to move away from there," he said, referring to the club previously being voted as having one of the best grounds in the country by cricket journalists.
"But we will gain better facilities," added Mr Merrick.
The club, which has teams in a number of leagues, wants to provide more training opportunities throughout the week for its members.
Former England and Liverpool footballer Michael Owen once played for the club as a teenager and was well regarded.
He returned occasionally to watch games after winning international honours as he continued to live locally.
History shows that big crowds turned out over a century earlier to watch Gladstone play for the club after he became prime minister in 1868, although he played his first game for the team a year earlier.
In 1957 the then Prime Minister Harold Macmillan surprised regular fans by turning up to watch a match.
The club was given permission to base itself in the grounds by the family of Gladstone's wife, who owned the estate.
Gladstone married Catherine Glynn of Hawarden Castle in 1839.
Now, the club has launched a £300,000 appeal to raise money or supplies to help with building its new pavilion which it hopes to complete before its 150th anniversary in 2016.
During its formative years there was no pavilion and history shows a tent was erected on match days.
Records mention that at some point the tent was replaced with a shed.
And in 1926 one of the Gladstones presented the club with a gift of a new pavilion, complete with thatched roof.
Meanwhile, £100,000 work has already started to level the new ground off Moor Lane with a £50,000 pledge from the England and Wales Cricket Board.
The Gladstone estate has been asked to comment.