Wrexham Remploy factory talks held aimed at reopening site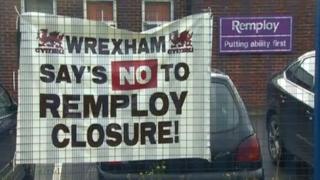 A firm is hoping to reopen Remploy's Wrexham factory which closed this summer with the loss of 40 jobs.
Disability Employment, based in Stoke-on-Trent, wants to use it to fulfil an order for kitchen and shower units and provide jobs for the redundant workers.
A meeting at Wrexham Guildhall on Friday was attended by the firm, council leaders and local MP Ian Lucas.
The Department of Work and Pensions (DWP) said it wanted the factory to be reused and to employ disabled workers.
'Tremendous asset'
Mr Lucas said the meeting had been "excellent" and that he would write to the Welsh Secretary David Jones to seek his support.
"We've got a willing workforce here, we've got an employer, we've got Wrexham behind the factory, all we want is for these workers - who are a tremendous asset for the town - to go back to work," he said.
The Wrexham plant was among seven Remploy factories in Wales earmarked for closure with the loss of 189 jobs despite a lengthy campaign to save them.
Only the Bridgend factory which employs 48 is in the process of being saved.
Most of the other Remploy factories in Wales closed at the end of September while Croespenmaen and Swansea will shut this month.
A DWP spokesperson said: "Along with Remploy, we are keen for the factory's assets including fixtures and machinery to be used by social enterprise organisations, particularly where they may be used to support disabled people locally.
"Anyone interested in bidding for these assets has been invited to put forward expressions of interest which will be assessed by Remploy, and DWP where appropriate to ensure we balance social value and value for the taxpayer."
Ivan Timmis, chief executive of Disability Employment which employs nearly 40 disabled people at a factory in Stoke, says he is waiting to hear whether his latest bid for the factory has been successful.
He also attended the meeting with former Wrexham workers.
Third offer
The UK government said the decision to end support for the Remploy factories was taken after a study suggested its £320m budget for disabled employment services could be spent more effectively in supporting workers in mainstream employment.
Before the closure, Mr Timmis said company had failed twice with bids to to keep the Wrexham plant open. He has since submitted a third offer.
"It's very frustrating," he said. "I've been told by Remploy that the decision rests with the Department of Work and Pensions, but they say it's up to Remploy.
"I've had a lot of support and encouragement from Wrexham council, the Welsh government, Glyndwr University and the local MP, Ian Lucas.
"I've also met representatives of the workers and they really are a first class bunch, second to none."
His factory is involved in metal fabrication, producing racks and other equipment.
But Mr Timmis said if he took over the Wrexham plant, he hoped to carry on using its machinery to produce wooden products, as well as providing a centre for training and development.
"We feel it's a sensible bid and we're hoping it will be successful."
Andy Pardoe, a former team leader at Remploy in Wrexham said that after meeting Mr Timmis two weeks ago he felt "very encouraged".
"What he's putting forward seems very positive and we hope it comes off," he said.
Remploy factories were established 66 years ago as part of the creation of the welfare state.
There were seven sites in Wales employing 272 staff.