School defibrillator plea led by Ysgol Cefn Meiriadog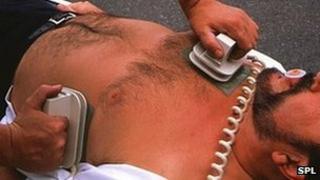 Parents and teachers at a Denbighshire village are calling for life-saving heart machines to be kept in every school in Wales.
Figures show about 270 young people die in the UK annually due to sudden cardiac abnormalities.
Ysgol Cefn Meiriadog has raised money for two defibrillators and will donate one to another school if it pledges to raise money to buy and pass on another.
The Welsh government said it wanted to learn more about the idea.
Former Bolton Wanderers midfielder Fabrice Muamba survived a cardiac arrest on the football pitch earlier this year after medics used a defibrillator several times to restart his heart.
Mother of three Emma Park, the chair of Ysgol Cefn Meiriadog's Parent Teacher Association (PTA), came up with the fund raising idea as her husband has a heart condition and her father-in-law died of sudden death syndrome.
Now, the PTA is working with charity Sudden Arrhythmic Death Syndrome UK (SADS) calling for all schools to have access to defibrillators which it bought for £1,200 each.
Compulsory
Mrs Park said while rare the nature of the condition means parents do not always know children or adults have a heart problem until it is too late.
"I do feel they should be more common in every type of public area," she told BBC Radio Wales.
SADS UK said a campaign was launched in May in Denbighshire to source funding to ensure all secondary schools in the county have access to a defibrillators.
Last week it attended a meeting at the Welsh Assembly to discuss making it compulsory for all secondary schools in Wales to be equipped with the equipment.
A Welsh government spokeswoman said following the meeting the health minister was keen to learn more but said no decisions would be made without serious consideration of all the evidence.
"Anything that can help us to avoid the loss of life and respond quickly to cardiac arrest deserves consideration," she said.