National Grid appeal Connah's Quay power plant decision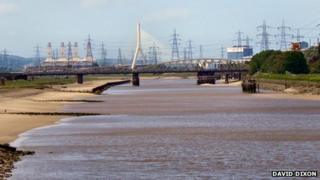 A decision to refuse an electricity converter station near homes in Deeside is being appealed against by the National Grid.
Flintshire councillors rejected advice over National Grid's revised bid to use the old Connah's Quay power station site to convert power brought from Scotland via an undersea cable.
Councillors said on Wednesday they were concerned about the project's scale.
The company says it has already started the appeal.
It began preparing an appeal after outline permission was refused earlier this year following complaints by residents.
On Wednesday, detailed permission was also refused, against the advice of planning officials who had viewed the new proposals.
There had been calls for the converter to be sited on the other side of the estuary.
National Grid says the converter station is needed as part of its £1bn Western Link project to build one of the world's longest under-sea power cables.
The cable would be capable of carrying renewable energy from Scotland to 3.5m homes and businesses in Wales and England via Deeside.
According to National Grid, the building was designed to convert direct current (DC) electricity transported by the link to alternating current (AC), so it could flow through the existing electricity network to reach homes and business.