Wrexham river death: Police find second body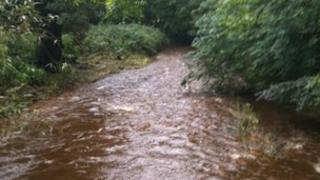 A second body has been discovered by police investigating the death of a woman who was found next to a river.
A worker nearby found the 27-year-old woman's body shortly after 17:00 BST on Wednesday near Felin Puleston at the River Clywedog, Wrexham, after seeing dogs sitting alone next to a car.
A man's body was found on Thursday during a search.
Police have said there may be a link between the two deaths but no further information has been made available.
"Inquiries are ongoing. It is believed to be linked to the discovery of a woman's body yesterday evening [Wednesday], however this is yet to be confirmed," North Wales Police said in a statement.
Workers at businesses near to the scene say they saw a lot of police activity in an adjacent car park used by walkers visiting Felin Puleston which links to Erddig country park.
'Dangerous'
North East Wales Search and Rescue (NEWSAR) say 20 volunteers were called to the scene on Wednesday following the earlier discovery of the woman's body.
They checked various locations along the river and surrounding water meadow, said a spokesman.
"After a number of hours of searching one party of NEWSAR team members discovered a body.
"Members of the party then secured the site while we awaited the arrival of police officers," he said.
Heavy rain fall over the past three days has affected many areas of north Wales and the River Clywedog is reported to be swollen.
Local people say it has has also burst its banks in some places.
A fire service spokeswoman described the river as "fast flowing" on Wednesday and warned people to be careful when approaching waterways following extreme weather.
She said: "Rivers may appear safe but fast flowing currents are dangerous."
Michael Morgan, who runs a car wash close to the scene, said he went to investigate on Wednesday after spotting a dog "too good to be a stray" by itself.
He found several others sitting around a vehicle.
"The next thing we know an ambulance has come down," he said.
Paramedics asked for directions to a nearby location and after he guided them to the scene along the river they spotted a woman's body on a sand bank.
He said another man had managed to pull the woman from the water.
He said staff from nearby Erddig Hall, a National Trust-owned property, arrived on the scene along with crews from North Wales Fire and Rescue Service.
He said although river levels have reduced dramatically recently it still has "tremendous force".
He said a bridge has been damaged and a tree washed down the river.
Anyone with information is asked to contact police on 101.