Denbighshire hires Xfor over litter and dog mess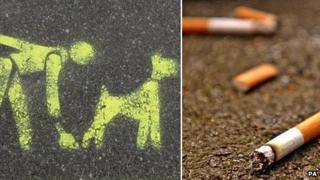 A private security firm has been hired by a third Welsh council to enforce fines against dog owners who fail to pick up their pets and people who litter.
Denbighshire council said Xfor enforcement staff would be kitted out with video cameras, to patrol hotspot areas.
It said offenders could be issued with a £75 fixed penalty notice.
Blaenau Gwent and Vale of Glamorgan council already use Xfor.
Between October last year and July the firm handed out more than 1,000 fines in Blaenau Gwent.
It was the first authority in Wales to use a private contractor to back up its policy of fining people who drop litter, or dog walkers who fail to pick up their pet's mess.
Denbighshire council's cabinet member for environment, David Smith, said dog fouling and littering were two of the most common complaints in the county.
"It was highlighted in our latest residents survey as one of the most pressing issues in communities," he said.
"Not only is dog fouling a health hazard, it blights the environment in communities across the authority and now is the time to tackle the issue robustly.
"We will be looking to engage with communities, educate people on the need to clear up after their dogs and make it much easier for people to report through a free phone number and social media as well as the more traditional methods of making a complaint."
'Anti-social behaviour'
The council said using Xfor would cost the authority nothing, but the firm would take a percentage of what it received from issuing fixed penalty notices.
In the coming weeks, Denbighshire will be distributing flyers, guides, posters and postcards to inform people about the new scheme.
Councillor Smith added: "We hope residents will get fully behind this campaign and help reduce this anti-social behaviour once and for all, ensuring Denbighshire is one of the cleanest greenest counties in Wales."