Wrexham Catholic bishop the Rt Rev Peter Brignall ordained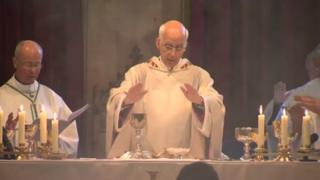 The new Catholic Bishop of Wrexham has been ordained in the town.
The Right Reverend Peter Brignall, 58, was named by the Pope in June as the successor to the Rt Rev Edwin Regan who announced his retirement in 2011.
The ordination and installation ceremony was held at the town's St Mary's Cathedral where Bishop Brignall was dean.
The Bishop of St Asaph, the Rt Rev Dr Gregory K Cameron, said he was "very much a priest who knows the locality".
"We have been very privileged to have Bishop Edwin as a strong spokesman for the Gospel of Jesus Christ and committed ecumenist in north Wales," said Dr Cameron.
He said Bishop Brignall was warmly welcomed "as a colleague and a friend to the important ministry of Bishop of Wrexham".
"I look forward immensely to sharing in the witness of the Christian Church with him," he added.
'Humbled and honoured'
The diocese of Wrexham covers north Wales and Powys.
At the time of his appointment Bishop Brignall said he was "humbled and honoured" to accept it.
He was educated in St Albans, Hertfordshire, and Finchley and Barnet in north London. He entered Westminster's Allen Hall seminary in 1972.
In 1977 he was ordained deacon for the diocese of Menevia in south Wales before moving north when serving in the parish of St David in Mold, Flintshire.
After also working in west and mid Wales he was made area dean of St Mary's Deanery in Wrexham in February 2002 before being appointed vicar general the following year.
At Wednesday's service, he became the third bishop of Wrexham.