Ysbyty Glan Clwyd: Emergency department work begins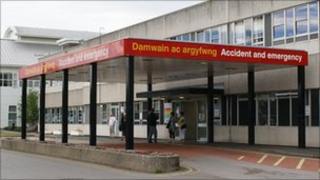 Building work has started on a new emergency department (ED) as part of a £77m hospital upgrade in Denbighshire.
The current casualty department will remain open at Ysbyty Glan Clwyd in Bodelwyddan during the improvements.
An area at the rear of the hospital is being used for the new department, and patient capacity will also be expanded as part of the plans.
Several emergency specialties are being brought closer together so that patients can be treated more quickly.
An increase in overall floor size over the existing site means the GP out of hours service, the main emergency department, and the medical and surgical assessment units will come together under one roof.
Project clinical consultant Eileen Williams explained that the new department reflects changes in hospital care away from the models known as accident and emergency or casualty departments.
More theatres
She says as society has become safer emergency medics see fewer accident victims and more older patients needing urgent care.
"We decided that if we brought all the hospital emergency specialties together, then patients would be able to be quickly seen by any doctor from any emergency specialty that they needed," she said.
"Although people still come as a result of accidents, nowadays the ED is the place where people come with relapses of chronic illnesses, or sudden severe illnesses."
Betsi Cadwaladr University Health Board (BCULB) which runs Ysbyty Glan Clwyd say the ED development is expected to be completed next summer.
The GP out of hours service will allow patients to be seen by the most appropriate doctor for an illness or injury.
A new ED X-ray suite will mean patients will not have to go to the hospital's main X-ray department. A children's emergency department will also have a separate waiting and treatment area.
There are also plans for four operating theatres to be built above the ED to link with the current main operating theatre department.
The ED will also house a Minor Injuries Unit (MIU) and a larger major injury or illness area containing a resuscitation room with capacity for five patients facing life threatening illnesses or injury at one time.
The announcement comes at a time the health board is consulting on major changes to NHS services around north Wales, including the closure of MIUs at smaller community hospitals.
A new £1.5m outpatients' department opened last year, along with other improvements to operating theatres as part of an overhaul of the hospital built in the 1970s.