Loggerheads Country Park: Mill waterwheel to turn again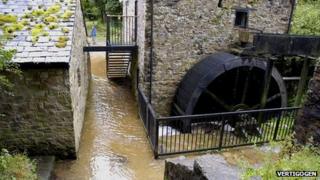 An old Denbighshire flour mill is expected to turn again, with work under way to restore a weir and pond serving its waterwheel.
The mill, which stopped working in the 1930s, was restored in the 1990s at Loggerheads Country Park, near Mold.
Now, 20 two tonne boulders are being used to create a pool from the River Alyn to drive the waterwheel again.
Wardens want it for education purposes to demonstrate flour grinding and water power with electricity generation.
One family were the last to work Pentre Mill at Loggerheads from the 1880s, and they opened tea rooms on the site, heating water on open fires.
This was to be a forerunner to the former 1920s Crosville Tearooms when the Crosville Motor Company started running coach tours from Liverpool.
Towards the end of its working life it is said the mill generated electricity for the buildings on the site.
The bus company owned the park until the 1970s which included a wooden tea house, band stand and kiosks before the county council turned it into a country park and which includes a popular cafe.
Watersport
Denbighshire's Countryside Service has since been slowly restoring the park, including its industrial features, while trying to encourage the natural habitat.
The park's mines closed in the 1900s, but the leete path, one of the main trails through the park, follows the route of a former mine working watercourse.
Senior countryside officer David Shiel said it has been many years since the mill's waterwheel has been able to turn properly because there has been little water in the pond system.
"We hope that this project will not only see the waterwheel turning again for the first time in decades, but will also see a return of water vole and other species to the mill pond and leetes," he said.
Kingswood Colomendy Outdoor Education Centre, formerly run by Liverpool council adjacent to the park, suspended water sports on its lake while some of the work was carried out.
The stone was donated by Hanson Cement from nearby Cefn Mawr Quarry.
The pond restoration is being carried out by the Clwydian Range and Dee Valley AONB with European funding from the Countryside Council for Wales and the Trunk Road Agency's Biodiversity Fund.