Flintshire crematorium: Funeral director's Northop bid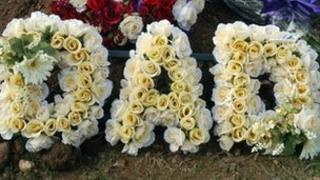 A funeral director is drawing up proposals to build a crematorium in Flintshire to save mourners from having to travel outside the county.
Edward Davies of JE Davies and Son has bought land at Northop, near Mold, and hopes to submit plans soon.
It was welcomed by one clergyman who says the bereaved face a more difficult time with no local crematorium.
One of the nearest facilities at Chester charges an extra £148 for people from outside the area.
Families in Flintshire also use crematoria in Wrexham and Colwyn Bay.
The Reverend Brian Harvey, the rector of Flint, believes local people will welcome the news.
He said it would be helpful, as families face a lengthy journey if they choose to have loved ones cremated, and anything that could "reduce the pressure in a difficult time" was welcome.
Alyn and Deeside MP Mark Tami, who last year led calls for a crematorium to be built in the county, told the Flintshire Chronicle: "The difference in price when people are cremated outside Flintshire to what it would be inside the county is significant."
Crematoria in west Cheshire, including Chester Crematorium in Blacon, charge residents £467 for an adult's cremation and a 30-minute service, compared with £615 for non-residents, according to the Cheshire West and Chester council website.
The idea has also been backed by many readers commenting on the Flintshire Leader website.
Suitable plot
Mr Davies estimated that the number of cremations compared with burials locally has risen from 25% to 75% over the past 30 years.
He believed a new crematorium would reduce pressure on neighbouring crematoria, where it can take over a week to book a service.
He said he had been looking for a suitable plot in the county for a number of years before buying 22 acres of land in Northop on the Flint road and close to the A55 dual carriageway.
He expects it to deal with about 1,500 cremations a year.
Mr Davies, who also is a sheep and beef farmer at Lixwm, near Holywell, said the land in Northop had potential for access without a funeral cortege having to pass people's homes.
He has already held an informal meeting with about 50 people in Northop who wanted to know more about the plans.
He said he has plans to continue to use some of the agricultural land for farming.
Plans are expected to be formally submitted to Flintshire council later this year.