Kronospan Chirk biomass plans vote deferred for site visit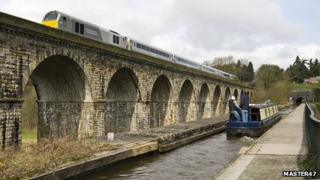 Councillors have deferred a vote on plans for a controversial biomass energy plant at a wood panel factory near Wrexham ahead of a site visit.
Kronospan says the plant would provide renewable energy for its wood panel factory at Chirk and help secure 600 jobs.
But local councillors called on members of Monday's planning committee to visit the site before voting.
There are concerns about the impact of the plans on tourist attractions.
Wrexham mayor and Chirk north councillor Ian Roberts successfully argued that fellow committee councillors should see a similar biomass plant at Deeside's Shotton paper mill and visit the Kronospan site before deciding the fate of the plans.
The committee had been recommended to approve proposals for the plant which would generate renewable electricity and heat for the existing factory by processing biomass from wood rejects and waste at the site.
But concerns have been raised in nine representations made by neighbours, according to a report by the head of community and well-being at Wrexham council.
They include worries over noise, odours, the visual impact, and its proximity to tourist attractions such as Chirk Castle.
'Economic benefits'
Llangollen Canal World Heritage Site, which runs for 11 miles (17.7km) along the route of the canal, is 50m to the west of the factory, which lies within its "buffer zone".
There are concerns the plans may set a precedent for similar developments.
The Canal and Rivers Trust said the development would have a "significant visual impact" but would be viewed "against the context of the existing industrial plant".
However, the council report said Welsh monuments body Cadw had not objected.
"Whilst they recognise that the new plant will undoubtedly contribute to a greater cumulative impact on the settings of several listed monuments and the World Heritage Site, the impact is not in Cadw's opinion significant when the scale of the existing Kronospan complex and its presence within the landscape is taken into account," said the report.
Kronospan said its existing factory faced energy supply issues and the renewable energy generated would "offset a significant proportion of the current energy requirements... currently derived from predominantly fossil fuel sources".
The company said the plant would also help secure the future of the site for its 600 employees and 2,500 people indirectly employed by its operations.
The council report concludes there is "significant environmental and economic benefits in allowing this development" and recommends that the planning committee approves the plans.