Queensferry sub postmaster's 60-year career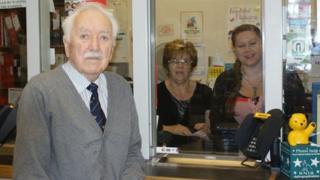 A grandfather-of-six has become one of Wales' longest serving sub postmasters after clocking up a 60 year career.
John-Pierce Margarson, 88, has been handed a long service award from the Post Office for running its Queensferry branch for the last six decades.
Mr Margarson, born above nearby Sandycroft Post Office, has a long family connection to the role stretching back to 1906.
His grandfather and father both held the same post.
He became sub postmaster in 1952 - the same year as the Queen's began her reign.
He can remember when his shop handled the area's mail with local postal workers sorting and delivering letters received and sent locally on the same day.
His grandfather helped set up the system locally in about 1912 and it continued until the 1960s when mail processing was centralised at sorting offices.
The former magistrate and county councillor can also remember the telephone booths in the 1930s and how customers agreed times to meet at separate post offices for conversations over the phone.
He said his mother, a telegraphist in Queensferry during the war years, became a pacifist because of the messages received about local men who died.
Mr Margarson's grandfather who delivered the telegrams which families came to know and dread, followed the same path.
But there was also good news when the local Italian community sent messages home telling families about new babies.
A young Mr Margarson, who received an OBE for his charity work and helping former servicemen and their families, played his part in the war effort.
He worked as a first aider and delivered occasional messages as a Boy Scout to the former RAF Sealand air base before becoming a soldier.
He also recalls the changes at Shotton's once sprawling steelworks, before a massive cut in the workforce and the subsequent redevelopment of part of the site to become Deeside industrial estate.
But it is the sound of the workers' clogs as they filed by that is vivid in his memory.
"Then they all seemed to get bicycles, and it went silent," he said.
"Then buses started coming and bikes were done away with and eventually cars with about six men in, all going to work, and eventually one car each."
The steelworks' glory years made it a busy time for Queensferry shopkeepers and the post office opened 12 hours a day.
But since 6,500 workers were made redundant in 1980 and the demise of RAF Sealand - now earmarked for development as an employment site - life in Queensferry has changed.
The sub postmaster said the arrival of big supermarkets has contributed to the changes in Queensferry, whose main street once had three butchers, two grocers, fishmongers and clothes shops.
"The footfall into Queensferry isn't nearly what it used to be," he said.
Mr Margarson believes some technological changes have created a barrier with customers, reducing interaction.
"Now they put their card in a pin machine. You know their faces but you don't know them," he said.
Mr Margarson's wife of 66 years, Margaret, (known as Peggy) has been running nearby Shotton Post Office for over 45 years.
Unlike his wife, Mr Margarson' has reduced his working hours but has vowed to continue.
"When I realise I cannot give an efficient service I will pack up," he said.