Gary Speed: Aston Park field named after Wales manager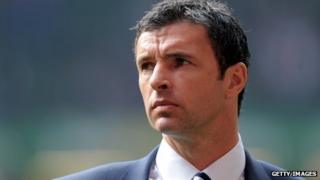 A field where the late Wales manager Gary Speed played football as a child is to be named in his honour.
The former Wales midfielder grew up in Aston, Flintshire, yards from Aston Park playing field.
Noel Barnes, the Hawarden Community Council clerk, said councillors had agreed the move and would discuss the final name, and the wording for a memorial plaque, with Speed's parents.
The former Leeds, Everton and Newcastle star died in November 2011, aged 42.
His body was found hanged in the garage at his home near Chester, but a coroner at his inquest in January said he could not be satisfied the ex-Premier League star intended to kill himself.
His death saw an outpouring of grief in the footballing community.
'Let the dust settle'
Fans at grounds around the country took part in tributes to the former Wales captain, who played for several Premier League clubs, including Leeds, Newcastle, Everton, and Bolton, and managed Sheffield United.
Mr Barnes said the field to be named in Speed's honour is "no more than 50 yards from his parents' house".
"Gary Speed was from Aston, which is part of our area," he said.
"The members wanted to in some way recognise Gary's life but decided to leave it for a few months to let the dust settle.
"There's been some discussion with his parents, and through them with his wife, about what might be appropriate.
"A proposal came forward to re-name a playing field which he used as a child. The council agreed that's what would be done."
The council will also place a memorial bench and plaque in memory of the footballer in the park, said Mr Barnes.
The name of the park is expected to be approved by the council in September.