Old Denbigh Victorian hospital repairs bill at £930,000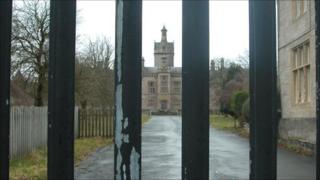 The bill to carry out urgent repairs at the former North Wales Hospital at Denbigh has reached £930,000.
Denbighshire council sent in contractors last year to carry out work due to concerns about the state of the Victorian building.
The council's cabinet committee agreed on Tuesday to try to push on with plans to use a compulsory purchase order to buy the building which closed in 1995.
The owner's lawyer said yesterday it would challenge any such action.
Concerns would be "progressed through the fullness of time through legal proceedings," he added.
The former asylum, built in 1844, has been vandalised, looted and fire-damaged since its closure. Some of the buildings are listed.
Developers had planned to build up to 280 homes, businesses and community facilities on the site.
No work was done and planning permission lapsed in 2009.
In November 2008, the main hall in the building was destroyed in a blaze which required 50 firefighters to bring it under control.
Officials raised concerns about the deteriorating state of the building and served the urgent works order last June, estimating the cost of repairs at £800,000.
"Demands for payment in regard to the council's expenditure have been served on the owner [an off-shore company] but no payment has been received," says the latest report to the council.
It says the council's planning department is following a procedure which could eventually result in a compulsory purchase of the hospital.
However, it could take up to 18 months if challenged, said the report.
"We will challenge the compulsory purchase order," said solicitor Ayub Bhailok, who acts for building owners Freemont (Denbigh) Ltd.
He said his clients had a number of concerns and would be raising them against the council, including the costs of the emergency work.
And he called for a public inquiry into the authority's actions and said legal action was also being considered.
Mr Bhailok said plans agreed previously to develop the site stalled as "the world changed and we entered into a recession", making the project unsustainable.
Councillors are being recommended to approve plans to push forward with compulsory purchase action during the meeting later on Tuesday.