Ysgol Llanfair Dyffryn Clwyd school celebrates its 150th anniversary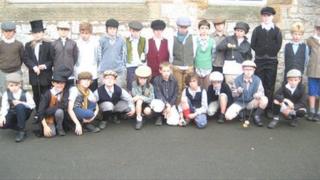 A primary school in Denbighshire has celebrated its 150th anniversary with the launch of a CD.
A church service and get-together for past and present pupils, parents and friends were also held at Ysgol Llanfair Dyffryn Clwyd on Saturday.
Head teacher Llinos Hughes said the term had included lessons and events about the school's history.
The school currently has 103 pupils and is one of four bilingual primary schools in the county.
"The event on Saturday is the culmination of a term of work and events which has delved into the history of the school - although we appear to have chosen the worst day weather-wise!" said Ms Hughes.
Celebrations began with a service at St Mary's Church, followed by an afternoon of activities in the school, including the unveiling of a specially commissioned artwork created by the children with artist Ann Bridges.
"During the afternoon we've given a general invitation to anyone with connections to the school to join us for tea and cake and to reminisce," said Ms Hughes.
The CD includes a new song written for the school by Robat Arwyn and Dafydd Jones.
Tea and cake
Ms Hughes said lessons had been structured during the school term so that pupils could learn about the history of the school.
Former pupils from over the years had also dropped by to speak to pupils about how things had changed.
"They've had a day when everyone dressed up as Victorians, and they were quiet as mice that day - although they did say afterwards they wouldn't like to be like that all the time.
"The children were intrigued to hear that in the past pupils were allowed to leave the school ground to play.
"There was a game called 'fox and the hound' and the children left the school to play on a nearby farmer's fields as long as they were back within five minutes of the school bell ringing.
"The children were also intrigued to hear how the cane was used, and how the pupils were punished for some quite trivial things."
Ms Hughes, a former pupil at the school, said: "I hadn't been here for years and I was struck at how small it all was.
"There are more pupils here now too, as we have two cabins to accommodate the extra classes and have eight teaching staff."