Plas Madoc charity fraudster Miriam Beard must repay £22,000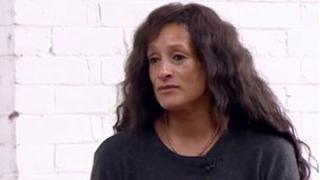 The former head of a community project on one of Wales's most deprived estates has been ordered to repay £22,000.
Miriam Beard, 56, was jailed for 32 months last December for defrauding the Plas Madoc Communities First project in Wrexham of more than £50,000.
A hearing at Mold Crown Court ruled she must sell her home to pay the bill - or face an extra 15 months behind bars.
Her son, Darrell Kelly, was also recently ordered to repay £15,000 taken from the charity.
The court was told that a specialist police financial team found that Beard had benefited from her crime to a total of £53,067.
The judge, Mr Recorder Huw Rees, was told that the likely amount that could be recovered was £22,000, after Beard's home at Henllan near Denbigh was sold.
Barrister Karl Scholz said if that sale brought in more cash, then the prosecutors would be pursuing Beard for more money.
The judge gave Beard six months to pay the sum, or face an additional jail term.
The proceeds of crime order followed the successful prosecution of Beard last year.
Beard had been in charge of the Plas Madoc charity that had been set up with the intention of helping residents on the deprived housing estate in Wrexham.
'Breach of trust'
But at her trial, during which she changed her plea and admitted fraud, the court heard how she "milked" the project for her and her family's benefit.
Work on her home and materials were paid by the charity along with two hotel bills.
Beard also paid her son £18,300 on the pretext that he owned a holiday caravan on the coast and was renting it to the project for the use of residents.
The charity also paid £3,000 for a vehicle for Kelly and the evidence showed that he bought another vehicle for £2,000 and sold it to the charity for £8,000.
Beard also arranged for him to use her fuel card and he ran up a £4,000 bill over a 15-month period.
It was said that she also arranged for two cheques, totalling more than £25,000, to be paid into her father's account for running or providing services for children.
The trial was told that no such services were provided.
When she was finally jailed, Judge Rhys Rowlands told her that she was guilty of a "cynical, sustained and very bad breach of trust".