Plas Madoc Communities First fraud: Darrell Kelly to repay £15,000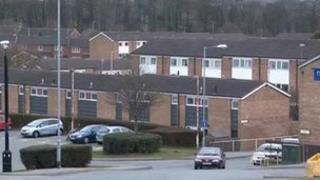 The son of the former co-ordinator of an anti-poverty scheme has been told to repay £15,000 diverted from funds.
Darrell Kelly, 35, received a 12-month suspended sentence last year for his part in a fraud from Plas Madoc Communities First project in Wrexham.
After a Proceeds of Crime Act financial hearing he was given six months to pay. The money will be raised by selling his home, Mold Crown Court heard.
Proceedings were adjourned against his mother, Miriam Beard, who was jailed.
She admitted nine fraud charges which involved the theft of £51,000 and was jailed for 32 months in December.
Judge Niclas Parry told Kelly, from Green Oak, Radcliffe, Greater Manchester, this criminal benefit amounted to £15,000 and a confiscation order was made under the Proceeds of Crime Act.
House sale
He was told that in default he would have to serve a nine-month prison sentence.
The judge ordered that 90% of the money should go back to the Welsh government, and 10% to the Communities First project which Wrexham council is plannning to take over .
The Plas Madoc scheme, helping people on the housing estate of the same name in Acrefair, has been managed by the Association of Voluntary Organisations in Wrexham (AVOW) since July 2011.
Miriam Beard, 56, of Henllan, Denbighshire, was jailed for 32 months at Caernarfon Crown Court in December.
She was appointed the charity's co-ordinator in 2003 after working as a welfare rights money adviser for Wrexham council's social services department.
She changed her plea to guilty during her trial at Mold Crown Court.