Two jailed for life for 'mindless' murder of Gabor Sarkozi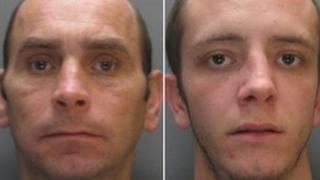 Two men have been sentenced to life in prison for the "utterly senseless" murder of takeaway driver Gabor Sarkozi in Denbighshire.
The Hungarian national had been punched, kicked and stamped on by James Siree, 22, and his uncle Gary Bland in Meliden near Prestatyn.
The judge told the men at Mold Crown Court they must serve a minimum of 18 years for their crime.
Mr Justice Griffith-Williams said the attack was "mindless, drunk violence".
The court had heard that between deliveries from the Happy Garden Chinese take-away in Meliden Mr Sarkozi had taken to walking the local lanes to keep fit.
For no apparent reason he was attacked by the two men on one of his walks - once outside the village of Meliden and a second time after they helped him back to the village where they left him for dead outside the takeaway.
The court had heard Mr Sarkozi was a devoted father to his 15-year-old daughter who lives in Hungary.
He was happy and humorous by temperament and was unknown to both his attackers, said the judge.
On the evening of 18 October last year they had both attacked him with such brutality, targeting his face and head, that he suffered a number of injuries, the judge said.
"The facial bones were fractured to many small pieces with gaping holes to the upper jaw," he added.
"The pathologist said that there had been multiple blows delivered with a considerable degree of force.
"You have shown, and continue to show, no remorse whatsoever," he told the men.
Ian Evans, the Crown Advocate for the Crown Prosecution Service in Wales said: "Gabor Sarkozi's death was brutally violent and utterly senseless.
"Gary Bland and James Siree attacked him with a callous, almost casual disregard for his life."
Mr Evans said the defendants then "concocted a story in an attempt to portray themselves as good Samaritans who had come to Mr Sarkozi's aid".
Mr Sarkozi's sister and brother-in-law, and his long-term partner who lived with him in north Wales, Ms Judit Galovics, had attended part of the trial at Mold Crown Court.
They spoke about their loss after his death, and how much of a struggle life will be without him.
Never forget
Ms Galovics said she had "stopped living" since his death.
The family added they were grateful for the support of the local community in Meliden where Mr Sarkozy was well-known.
Ms Galovics added she would never forget Gabor Sarkozi.
"I will love you forever and in my heart you are always with me.
"One thing keeps me going still, that Gabor has become my guardian angel and is always with me and watches over me," she said.
Detective Inspector Iestyn Davies, who led the investigation for North Wales Police, welcomed the guilty verdicts and said Mr Sarkozi had died at the hands of "mindless thugs".
"North Wales will be a safer place as a result of their imprisonment," he added.