Flintshire council plans Wepre Park garden restoration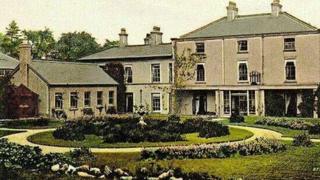 A demolished historic hall's overgrown gardens could be restored to their former glory in a £750,000 project.
Flintshire council was awarded some money by the Heritage Lottery Fund to research and draw up plans for the revival of the gardens at Wepre Park.
Georgian Wepre Hall was flattened over 50 years ago and the remaining estate became Wepre Country Park.
The public is invited to help with weeding and planting and to learn more about the plans on Sunday.
The council has been awarded a "first round pass" from the Heritage Lottery Fund (HLF), including development funding of £30,700, to research the grounds and uncover the original layout from beneath years of vegetation.
A master plan is being drawn up to recreate the estate's formal garden and lawns as well as a kitchen garden, woodland garden and restoring a cedar avenue.
The plans to restore the gardens are estimated to cost about £750,000.
They are due to be submitted to HLF officials by August for them to decide whether to the grant funding.
The gardens were created between the 18th and 19th Centuries when the former Wepre Hall was in its prime.
As well as formal gardens and lawns, it was surrounded by parkland, including lakes, lily ponds and a summer house dell and meadows.
Ewloe Castle sits at the head of a valley looking over woodland and the plans include improving access to the site of the towering 11th Century ruins.
Flintshire Countryside Service and The Friends of Wepre Park are inviting people to get involved and help plant up Wepre Park's historic garden for summer.
Sarah Jeffery, Wepre Park's new development officer, has organised a gardening morning on Sunday between 10:00-12:00 BST.
The council is hopeful of securing further HLF money, saying a first-round pass is an endorsement of its outline proposals.
The project has up to two years to submit fully developed plans.
A landscape architect has produced a report after examining the grounds to reveal how the estate could originally looked.
As no complete garden records exist, Richard Sumner visited the site to look at remaining features and compared the scene with surviving photographs and paintings.
He said: "An analysis of the site and its existing features helped gather an understanding of what remained of the original structures and planting, which over time have deteriorated, been lost, or obscured by natural regeneration of vegetation and seedling trees."
Today, a visitor centre stands on the site of former Georgian Wepre Hall although it has been an occupied site for much longer.
According to the Domesday Book of 1086AD, the site was owned by St Werburgh's Abbey of Chester.
Council records show that by 1430, an heiress named Gwladys lived at the hall.
In 1695, Wepre was owned by Basil Fitzherbert who handed the manor house down through four generations until his great grandson, Thomas, died leaving the house to his widow Mary Ann Fitzherbert.
It was left empty for another four years until it was finally sold in 1788.
The former Georgian Wepre Hall was built in 1788 by Edward Jones after demolishing the previous manor house.
Jones, aged 41, had become rich after lead was found on his land at nearby Holywell.
John Rowden Freme bought it from Jones' family in 1865.
Freme came from Worcestershire and had made his money from trading in Liverpool and his family lived at Wepre Hall for 55 years.
The old hall gardens are the only remaining evidence of the Georgian house.
Wepre Hall estate changed hands in 1920 and then much of the estate was sold off as building land leading to the development of more homes in Connah's Quay.
The army and air force used the hall during World War II before the former Connah's Quay Urban District Council paid £10,000 the hall and estate in 1943.
The hall was converted into flats, but in 1960 it was demolished before Flintshire council took over and turned the land into a country park.