Wrexham butcher discovers Bronze Age axe in Flintshire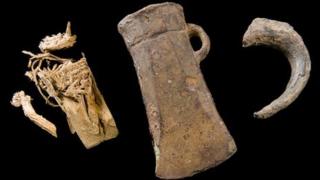 Bronze Age treasure, including a 3,000-year-old axe, has been discovered by a metal-detecting butcher in Flintshire.
The hoard, found in the Treuddyn area, includes a socketed "Type Gillespie" axe and a hook-shaped tin object.
The items, thought to have been buried between 1050 BC and 800 BC, were declared treasure by the North East Wales Coroner at Wrexham on Thursday.
The items, found in a boggy field by Colin Lewis from Wrexham, will be analysed by experts before valuation.
The National Museum Wales wants to acquire the hoard following its independent valuation.
The items were found less than 20cm (eight inches) apart while Mr Lewis was metal-detecting in a boggy field under pasture.
Radiocarbon dating
It is believed they could have been buried together in a pit.
Part of the wooden shaft of the bronze axe survived inside its socket.
The tree species has not yet been identified, and it is thought a wood sample could be used for radiocarbon-dating.
The faceted axe is of a recognised style known as Type Gillespie.
The National Museum believes the tin hook-shaped artefact is possibly an attachment or a handle to a larger object.
It may have been deliberately selected for burial because of the importance of tin as a metal at the time.
Tin was alloyed with copper, and sometimes lead, to make bronze.
The hoard will now be sent to the British Museum for temporary safe keeping until a valuation committee decide on the value, with views from an independent expert, the finder and landowner.