Footballers rape trial: Ched Evans says woman 'in control'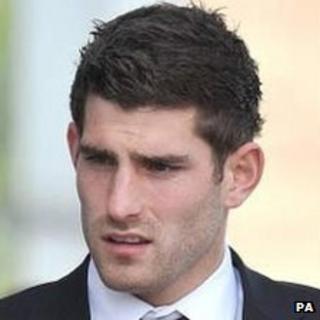 Wales and Sheffield United striker Ched Evans has rejected claims that he raped a woman for his own gratification.
Mr Evans and Port Vale defender Clayton McDonald, both 23, deny rape at a Premier Inn near Rhyl, Denbighshire.
Both admit having sex on 30 May 2011 but the prosecution say the woman, 19 at the time, was too drunk to consent.
Mr Evans told Caernarfon Crown Court the woman had not been very drunk and had been "in control". The trial is continuing.
Prosecutor John Philpotts questioned the footballer, stating: "She was simply a girl that you and your friend... you just used her for your own gratification."
But Mr Evans replied: "No, that's not right."
Asked about the condition the woman was in during their encounter, Mr Evans said she had been "in control".
"She was not very drunk. She had had a drink but she was not very drunk," he said.
International caps
Earlier in evidence, the court heard that Mr Evans, whose mother lives in Rhyl, had invited Mr McDonald and others for a bank holiday night out in the seaside town on 29 May.
Because there was not enough space at Mr Evans' mother's house, Mr Evans had booked Mr McDonald into the hotel.
The court heard that Mr McDonald met the woman and took her back to the room, sending a text to Mr Evans stating he had "got a bird".
During his evidence, Mr Evans told the court he wanted to go back to the room and tell Mr McDonald that one of their friends had been arrested and to see if he knew the girl, as he was a "local lad".
He admitted "deceiving" the receptionist to get the key card to the room and then letting himself in and seeing Mr McDonald having sex with the girl.
He said they realised he was there when the door "made a clunking noise" behind him.
Mr Evans told the court he watched them having sex for about "10/20 seconds" and then Mr McDonald "asked" if his friend could "get involved".
'Giggling'
"Then she looked at me and said yes," Mr Evans said.
He then said he carried on watching "for a minute or two" before Mr McDonald got up to close the bedroom curtains, as there was "giggling" coming from the window, where Mr Evans' brother and a friend were trying to watch from.
Mr Evans said that when Mr McDonald got up the girl asked him to perform a sex act on her, which he did.
He explained to the court that the girl encouraged him while they had sex, which continued until Mr McDonald left the room.
Mr Evans told the court that when he stopped having sex with the girl and started to get dressed the girl "huffed... she pulled the quilt over herself."
Mr Philpotts asked Mr Evans if he and Mr McDonald "forced that young lady" into having sex.
He replied: "No."
Asked if she was conscious, Mr Evans replied: "Yes."
Girlfriend
Mr Evans said he left the hotel room, for which he had paid £99, and walked home because the room had not been booked for him.
The prosecutor quizzed Mr Evans on why he had left through an emergency exit.
"You left through that exit because you knew what you had done," said Mr Philpotts. "No," replied the footballer.
"And you didn't want to be seen going through reception," said the prosecutor. "No," Mr Evans said again.
Mr Philpotts asked: "What was the hurry to leave?"
Mr Evans replied: "Because I didn't want to be in the room in case my girlfriend rang me."
He said it was "never his intention" to go and "get a girl" that night, and that he did not recognise her from a bar earlier in the night when she was seen to fall over.
He said he could not remember making a call to Mr McDonald after receiving his text about him "getting a bird" and could not remember the taxi journey to the hotel - a taxi he shared with his brother and a friend.
Mr Evans said the first he heard about the accusations was a text message from his mother on the following Tuesday which he received while seeing a physiotherapist in Sheffield.
He said the text talked about the police "interrogating his little brother" about what had happened at the Premier Inn.
He said he told his mother "what had happened" and then went to his girlfriend's house because he was "thinking the worst".
Asked by Mr Philpotts what he could have to worry about, Mr Evans replied: "Nothing."
Both men admit having sex with the woman but say it was consensual.
The trial continues.