Wrexham PCSO Lisa Stapley jailed for information leaks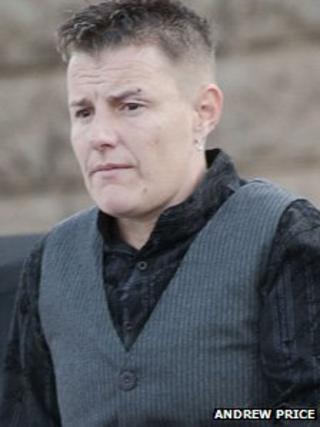 A police community support officer (PCSO) has been jailed for 10 months for giving out confidential information in her home town of Wrexham.
Mold Crown heard Lisa Stapley, 39, sent a text message to a friend telling her get out of town because police were looking for her.
Stapley admitted four charges of misconduct in public office.
Judge Philip Hughes said tipping off a friend was a "gross breach of trust" and prison was the only option.
The court heard there was no financial gain, and in three of the four charges she was not advancing any criminal purpose for anyone else or prejudicing any police operation.
In those instances she could be described as "misguided and naive", the judge said.
However, addressing the tip-off to a friend, he said: "By doing so you helped your friend evade the attention of the police.
"That is the most serious aspect of your offending.
"It was a gross breach of trust."
The judge said it was clear from testimonials that she was a well-respected, hard-working PCSO.
'Duty'
He added: "However, the court has a duty not only to punish you but to send out a message to those who work in the police, either as police officers or community support officers, that such behaviour is so serious that only immediate custody can be imposed."
Stapley's barrister, Patrick Cassidy, said his client was a lesbian, recruited by North Wales Police as part of its equality and diversity policy.
Stapley joined the force in 2008, initially working on Anglesey.
She was then posted to Wrexham, where she had worked for 10 years as a taxi driver.
She suffered from depression, the court heard, and in 2009 her civil partnership broke down and her mother died.
"With the personality she has, the resolve she was expected to have weakened and she passed on bits of information in the way that the court had heard," Mr Cassidy said.
'No payment'
Regarding the most serious offence, he said: "She tipped off a friend.
"There was no payment or any corruption above and beyond the act itself."
The court heard a woman on a night out in Wrexham received a message from Stapley saying: "Get out of Wrexham, the police are looking for you."
When interviewed, Stapley said she saw herself as an unofficial point of contact for the lesbian community of Wrexham.
Mr Cassidy said it was done in the context of the tight-knit lesbian community she was part of, and she later resigned.
After sentencing, deputy chief constable, Ian Shannon, said: "This case demonstrates our resolve to thoroughly and rigorously investigate any instance where the integrity of our staff may be called into question."
He added: "In any case, where corruption is found, we will ensure that those responsible are brought to justice, as we have done in this case."