Woman's evidence in Ched Evans and Clayton McDonald rape trial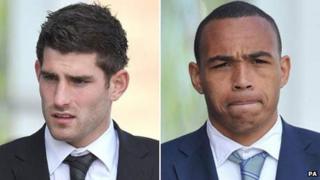 A court has heard how a woman told police she woke up naked and "confused" in a double bed after allegedly being raped by two footballers.
Wales and Sheffield United striker Ched Evans, and Port Vale defender Clayton McDonald, both 23, deny the attack at a Premier Inn near Rhyl, Denbighshire.
Caernarfon Crown Court was played video interviews in which the woman, 20, said she could not remember what happened and feared her drinks were spiked.
The trial continues.
The jury was shown two videos of police interviews in which the woman, who was 19 at the time of the alleged attack, described drinking four double vodkas and lemonade and a shot of Sambucca at Rhyl's Zu Bar in May 2011.
She told police: "I felt tipsy but not out of control.
"I usually drink more than that. I haven't blacked out before, not being able to remember anything."
The jury heard she denied taking drugs on the night of the alleged attack.
The woman said she did not remember leaving, but had a "vague recollection of being in a kebab shop".
'Scattered clothes'
She said she had tried to grab a piece of a man's pizza, adding: "It's just a blur. I just remember being there and eating a pizza."
The woman said she could not remember travelling to the Premier Inn at Rhuddlan, but woke up naked in a double bed.
"My clothes were scattered around on the floor," she said.
"I just didn't know how I got there, if I had gone there with anyone. I was confused and dazed."
She added: "I just wanted to get out of the room and find out how I got there."
Consent
The jury previously heard how both Mr Evans, originally from St Asaph, Denbighshire, but now of Penistone, South Yorkshire, and Mr McDonald, of Crewe, Cheshire, accepted they had intercourse with the woman.
However, the prosecution allege she was in no fit state to consent.
During cross-examination by Mr McDonald's barrister, Lloyd Morgan, the woman agreed she had drunk two-thirds of a bottle of wine and the other alcohol that night.
She said she could not remember getting in a taxi with Mr McDonald and asking where he was going.
Mr Morgan said the footballer told her he was going to the hotel and she said she was going with him.
After talking in room 14, he said: "You each took your clothes off and he began having sex with you. Do you remember?"
She replied: "No."
Mr Morgan: "You were happy for this sex to go on weren't you?"
Woman: "I don't remember."
When Mr Morgan suggested she agreed to Mr Evans getting involved when he entered the room, she said: "I don't remember."
Mr Morgan: "You say you had no recollection as to what happened in the street, the taxi or hotel room?"
Woman: "Yes."
Mr Morgan: "Is that actually correct or is it you woke up and knew what had happened and were embarrassed about it?"
Woman: "No."
David Fish QC, for Ched Evans, said :"Whatever you had to drink that night and whatever the effect of any other substance, you went willingly to the Premier Inn with Mr McDonald?"
Reply: "I don't remember."
Mr Fish: "I suggest you had sexual intercourse with both men in that room willingly."
Reply: "I don't remember."
Mr Fish: "You gave no indication to either man you didn't want to have sex."
Reply: "I don't remember."