Artist Jonny Duddle celebrates success with pirates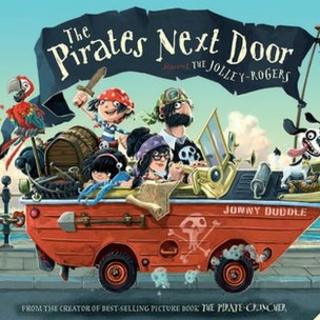 An artist for Aardman film The Pirates! In An Adventure With Scientists says his success has been accidental.
Jonny Duddle has just won Waterstones Children's Book Prize for his second picture book The Pirates Next Door.
Finding it hard to make a living as an artist he left his Flintshire home to work for a year on a ship at Bristol.
And that inspired him to draw an illustration of pirates which landed him the book deal and brought him to the attention of Aardman.
Father-of-two Mr Duddle from Nannerch, near Mold, Flintshire, is travelling to London on Friday to a special screening of the film before attending a question and answer session about his work as a concept artist on the animation and as a successful new author.
"It has been a bonkers week," he said.
He picked up the £3,000 book award on the same day the British animation, starring Hugh Grant and Salma Hayek, was released in cinemas.
Although it is not based on the characters of his books, he says Aardman asked him to work with them four years ago after they saw a "little drawing" he had done of some pirates.
His first book, The Pirate Cruncher, was influenced from the photographs he had taken while working on board a sailing ship marking the 500th anniversary of explorer Christopher Columbus's achievements.
He only took that job after finding it hard to make a living as an artist and illustrator.
From working with children on the ship he became an art teacher and that led to a teaching colleague introducing him to a friend who worked in the games industry.
Mr Duddle, a married father of two, went on to work on a game version of the Johnny Depp film Pirates of the Caribbean.
And several years later, after developing his skills as digital illustrator, he says he had better luck second time round while trying to promote his work among agents, landing him the book deal and Aardman work independent of each other.
He says more than 80,000 paperback copies of his first book have been sold on top of hard back sales.
"It's a weird to think there are 80,000 [copies] floating around with kids reading them," he said.
He admits to widening the appeal of his second book after one of his daughters said the first was more for boys.
The Pirates Next Door is about a family of pirates who move to the quiet seaside town, Dull-On-Sea.
The title was also named best picture book, winning him an additional £2,000.
He says working digitally gives him freedom to experiment as he can make copies and produce several iterations.
And that is something he is putting into practise as he prepares illustrations for his third book, King of Space, about a little boy who takes over the universe "without his mum and dad finding out".