Wrexham Remploy campaigners gather petition signatures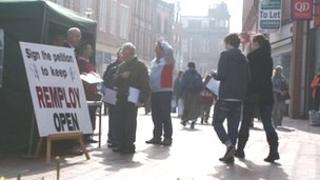 Campaigners claim support is growing in a bid to save Wrexham's closure-threatened Remploy factory.
A group of workers and their supporters were in the town on Saturday gathering signatures for their petition to retain the factory, safeguarding 42 jobs.
It is one of seven Welsh sites facing closure by the UK government, with the jobs of 272 disabled people threatened.
It comes after a review said money would be better spent helping people, rather than investing in factory units.
A march was held a week earlier in the town in protest at the plans.
The Welsh government wants funding for the organisation to be devolved in Wales.
Wrexham MP Ian Lucas last week raised parliamentary questions with UK government ministers about procurement policies regarding Remploy factories.
£6m projected loss
"Locally, I am continuing to push for detailed figures regarding the Wrexham site," he said.
According to apublished earlier this month, the Wrexham factory is expected to make a loss of £878,000 over the current financial year.
"I asked ministers for these months ago, but the brief KPMG report they released recently contains very little detail," said Mr Lucas.
"I have meetings set up with various groups in the coming weeks on Remploy and will continue to push for greater transparency."
The KPMG report showed that the Welsh Remploy sites are projected to lose more than £6m this financial year.
Remploy was established in 1946 as part of the creation of the welfare state.
Workers are employed in enterprises that vary from furniture and packaging manufacturing to recycling electrical appliances and operating CCTV systems and control rooms.
But an independent review into the businesses said money would be better spent supporting individuals, rather than investing in loss-making factory units.
The move has been criticised by politicians in Wales, where only two Remploy factories - at Porth and Neath - will stay open.