Corwen ready for Llangollen railway and business boost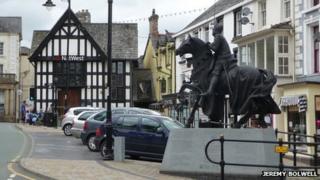 Shops and cafes are opening in a town preparing for the arrival of a heritage railway and an extra 90,000 visitors.
Traders in Corwen want to make sure the town is at its best although the first passengers on the Llangollen Railway extension are not due till next summer.
Cafes and tea rooms have opened and other people are devising ways to cash in on the extra visitors by setting up new events, markets and other projects.
Meanwhile, council officials have drawn up plans which include a new museum.
"It is such an exciting time," said Lesley Lewis-Crimes, who has helped set up the Edeyrnion Heritage and Cultural Society to promote local villages.
"It is a diverse area for history and such a beautiful place we want people to come and see what we have got," she said.
Corwen and District Business Association is hoping the last vacant shop units will soon be occupied, with new places to eat and drink as well as a supermarket already recently opened and an art gallery on its way.
Corwen Partnership, which includes local groups, has helped establish anew walking festivalover the first September weekend.
Tourism and Leisure Corwen (TLC) is in talks to secure funding for equipment such as stalls to put on regular markets.
Members have yet to decide whether to work towards hosting alternate markets selling produce, crafts and a car boot or a mix of the three.
Among other ideas is a plan to clean-up properties in the town centre as well as opening a visitor centre and possibly a transport museum as well as a children's play barn.
Adraft Corwen planby Denbighshire council says: "There is an aspiration amongst local organisations to develop and operate visitor facilities which would complement the extension of the railway including a new railway museum and an attraction in the adjacent former chapel."
It goes on to say the Arts Council of Wales has indicated a willingness to part fund an arts trail in Corwen.
The Owain Glyndwr Society are also said to be looking at the possible development of a trail marking the historic nobleman's close links with the area.
The Central Hotel is undergoing a £1.2m refit as a restaurant and flats.
The Corwen Healthy Living Centre, which provides community facilities, has just received confirmation of a £250,000 Welsh government grant to fund a revamp.
Meanwhile, the fate of the closed Corwen Pavilion, another community centre, which was closed due to health and safety issues, is less clear.
And the nearby Rhug Estate Farm shop was recently extended to include a restaurant.
At the Digital Magic print and photo shop, Geoff Williams, who is on the committee of the business and leisure groups, says: "There are lots of groups doing things for the town."
He is chair of the TLC group which is pushing the market plan.
"There is a lot of enthusiasm about it. We hope to start from August," said photographer Mr Williams.
Royal Oak landlord Ian West, secretary of the local business group, says anticipation is building among local people because, until now, the railway has been "two years away for 20 years".
"We have more places to eat, cafes, tea room and vacant premises are being taken up," he said.
"It is being driven by the railway."