Shotton plant being closed by International Power, risking 32 jobs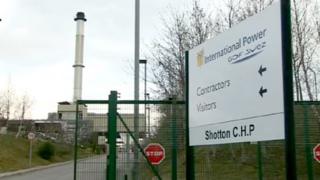 A union has said it will do all it can to help 32 workers at a Flintshire power plant which will close by the end of the year.
International Power said competition from more efficient plants was behind its plan to close the Shotton works.
Energy union Prospect said it was a "blow," and the 210 megawatt plant had traditionally powered local industries.
The firm, 70% owned by French utility GDF Suez, said it would seek to relocate staff "wherever possible".
The combined heat and power (CHP) plant would remain available until closure plans are finalised, said International Power.
"Due to the commissioning of a number of highly efficient gas-fired power stations in the UK and the relatively low efficiency of Shotton CHP, this plant is no longer competitive in the UK wholesale electricity market," it said.
"We would like to recognise the hard work, dedication and expertise of our staff at Shotton and we will be entering into a consultation process to mitigate the impact on employees.
"We will seek to identify redeployment opportunities within the group wherever possible."
'Peaking capacity'
Tony Hammond, negotiator for Prospect, said: "Today's news is a blow both for the individuals involved and historically because of the role Shotton has played in powering local industries.
"We will be working closely with GDF Suez/International Power to explore the options available to the 32 dedicated and highly skilled employees affected by this decision and seek opportunities for redeployment within the group where possible."
He added: "At a time when the UK also faces the closure of several large coal-fired power stations between now and the end of 2015, we have to question who will supply the peaking capacity of the future."