Powys woman who falsely retracted husband rape claims loses appeal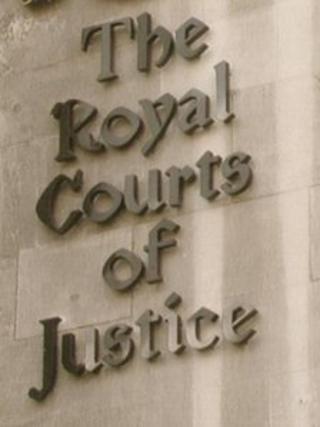 A Powys woman jailed for falsely retracting rape allegations against her husband has lost her Court of Appeal bid to overturn her conviction for perverting the course of justice.
Her husband was charged in 2009 with six rapes, which he denied, but she later said the allegations were false.
No evidence was offered against him at Mold Crown Court and not-guilty verdicts were entered.
However, the woman later said it was the retraction which was false.
The woman, 29, from Powys, was jailed in November 2010 after admitting perverting the course of justice, but was freed on appeal within weeks.
When dealing with an appeal against the sentence in 2010, Lord Judge said that when she appeared at Mold Crown Court "her sentence had to be assessed on the basis that she had perverted the course of justice by falsely retracting a truthful allegation that her husband had indeed raped her".
Giving the background to her relationship at that hearing, he said: "On her account - and we emphasise that we have not heard his - she was subjected to violent abuse and became very fearful of him."
The Court of Appeal imposed a community sentence with a two-year supervision order instead.
However, the woman launched another appeal, this time to have the conviction overturned as unsafe.
When the latest appeal opened in February, the woman's QC, Niall Quinn, told the court that it was a "very unusual case".
He said "the system and what should have happened went awry as a result of errors on all quarters."
The woman was "undoubtedly the victim of prolonged and serious domestic violence and abuse and multiple rape", who was suffering "at all material times from a psychiatric disorder", he said.
Giving the decision on the woman's appeal against conviction on Tuesday, Lord Judge said: "The reality of this case is that the appellant was undoubtedly guilty of a serious crime, from which police officers did all they reasonably could to dissuade her.
"Compassion for her position, and indeed for any woman in the same or a similar position, should have produced a non-custodial sentence.
"That is why this court acted speedily to quash the custodial sentence and replace it with a community order which would offer practical assistance to the appellant in the immediate aftermath of her release from prison."
He added: "The court also expressed itself in clear and direct language, which was immediately considered by the Director of Public Prosecutions, who has now issued fresh guidance about how cases involving false retractions of true allegations by vulnerable defendants will be addressed in the future."
He added: "All that acknowledged, we cannot dispense with or suspend the statute, or grant ourselves an extra statutory jurisdiction.
"Accordingly, we are not entitled to interfere with this conviction. The appeal must be dismissed."