Plans for Rhyl's Foryd Harbour backed by Conwy council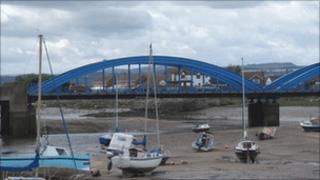 Denbighshire's £9.9m plans to revitalise Rhyl's seafront have received conditional approval from neighbouring Conwy council.
Denbighshire council first mooted its proposals for Rhyl Foryd Harbour in January 2011, including a new public square, cafe and cycle and footbridge.
It required permission from Conwy because the harbour is on the border.
Conwy planners said they were "minded to grant conditional planning permission," subject to conditions.
The backing comes with the proviso that "outstanding concerns are resolved to the satisfaction of the Development and Building Control Manager," and to "authorise the Development and Building Control Manager to determine the application under delegation".
Major construction work costing £10.4m is already under way to improve the coastal defences affecting West Rhyl near the site.
It is also close to the flattened former Rhyl fun fair, now known as Ocean Plaza, where separate development plans have stalled, leading to calls last week for the area to be cleaned up.
Ship building
Denbighshire council's own£9.9m planning applicationis for the construction of a new jetty and quay wall, as well as the construction of a new public square and a building for a harbour master and commercial use, including a cafe.
The plan also includes improvements to an existing boat yard and car parking, as well as sand dune restoration on an area known as Horton's Nose, close to Sunny Vale Holiday Park and Rhyl Yacht Club.
A new pontoon also features in the plans along with moorings with wheelchair access.
The bridge part of the development was approved in principle last year.
The harbour was created in the 13th Century, during works to make a deep channel to act as a link to the nearby Rhuddlan Castle.
It served as a local port for coastal traffic and for the export of grain, timber and lead ore, together with ship building.
Around the 1860s, a timber yard was opened on-site and which continued for around a century before being converted to its present use as boat storage.