Smoke alarm saves couple in Rhydymwyn house fire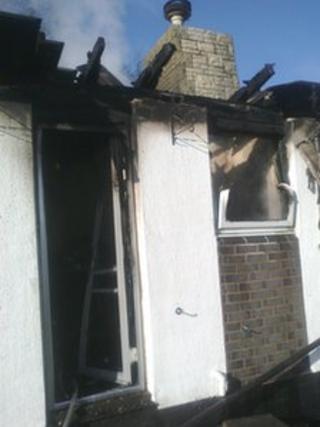 The lives of an elderly couple were saved by a smoke alarm which activated during a blaze at their bungalow in Flintshire, says the fire service.
A man in his 80s and a woman in her 70s were treated for smoke inhalation and minor injuries at the scene in Rhydymwyn, near Mold.
North Wales Fire and Rescue Service said the man was disturbed by the smoke alarm on Tuesday morning.
The fire is being investigated, but is thought to have been accidental.
The alarm was raised shortly before 07:30 GMT.
The couple managed to escape from the property and call 999.
'Life-saving'
The blaze caused severe damage to the kitchen, a utility room and roof space. There was also smoke damage throughout the property.
Two fire engines from Deeside and a third from Buckley attended the scene in Rhydymwyn.
Ian Williams, of North Wales Fire and Rescue Service, said: "This incident highlights the potentially life-saving properties of smoke alarms.
"The early warning provided by the alarm allowed this couple to escape unharmed and contact the fire and rescue service as quickly as possible.
"The couple followed our advice to the letter by exiting the property as quickly as possible and calling 999 - always get out, stay out and call the fire and rescue service out."
Mr Williams said the fire service offered free home fire safety checks and would fit new smoke alarms.