Maelor Creamery £13.5m redevelopment go ahead at Marchwiel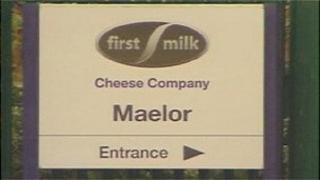 A big employer in Wrexham has announced £13.5m redevelopment plans to safeguard 220 jobs.
First Milk Cheese says it needs to invest in new production facilities at Maelor Creamery at Cross Lanes, Marchwiel, to remain competitive.
Wrexham councillors have just approved plans for the company to build a new cheese cutting and packing building, including offices.
The company is a co-operative owned by 1,800 farmers across the UK.
It deals with 1.5bn litres of milk annually, of which 44% is turned into cheese at its plants in Wales, Scotland and Cumbria.
The Maelor Creamery packs 30,000 tonnes of cheese a year.
Supporting information in areport to Wrexham council planning committeesays the redevelopment in Marchwiel is needed to retain a "strong position in a competitive market".
"The current facility is unable to meet these demands of current market pressures and if not significantly improved will put the business at some considerable disadvantage," it says.
"Ultimately, this lack of competitiveness will result in a loss of business and the potential loss of circa 220 jobs."
Wrexham council planning committee approved the plans at a meeting on Monday evening.