Denbighshire community groups to use hydro power to generate cash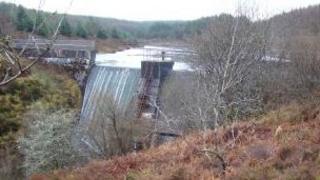 More local groups are trying to use hydro power to generate electricity and money for their communities.
In Denbighshire, anglers want to sell power generated from their river to raise funds to improve the ecology around their lake.
And talks are being held to use the site of an old water mill to power a village hall in Glyndyfrdwy.
The Welsh government said it wants community groups to set up more renewable energy projects.
By harnessing the latest technology, officials reckon sites that once used water to power mills and factories during the Industrial Revolution could come back into use.
One successful hydro power scheme running since 2006 is Talybont on Usk Energy in the Brecon Beacons which generates power at Talybont reservoir.
It sells the power on to fund community projects which include an electricity-powered and bio diesel car-sharing club.
Director Hilary Williams said the not-for-profit group raises about £20,000 annually from the energy produced and is always looking to plough profits into sustainable projects.
The latest idea is to collect used cooking oil from local establishments to convert to bio diesel for the car-sharing club.
However, it is still at the planning stages with the Brecon Beacons National Park Authority.
'Making things better'
Now, the Welsh government wants more community groups to get involved in hydro power projects.
And in Denbighshire, rural development agency Cadwyn Clwyd has been helping community groups push forward their plans.
Among them is the Denbigh and Clwyd Angling Club where members want to use the River Clywedog, which feeds the Clywedog Reservoir, as a power and cash generator.
Chairman Colin Blythin said: "It is not a question of making the river easier to fish, it's about making things better ecologically."
He said the club had seen the benefits of spending thousands on improvements with the indigenous brown trout population doubling in size.
Mr Blythin said setting up a hydro power generator would "unlock funds" for the small club to pay for more river bank and habitat improvements.
The group is still in talks with Forestry Commission Wales, among others, about developing its plans.
Another scheme also at the early stages concerns the site of the ruins of Nant y Pandy mill, Glyndyfrdwy, near Llangollen.
It used to process slabs of slate in the late 1800s and was served by a tramway from local quarries.
Financial help
Cadwyn Clwyd said a feasibility study had been carried out to assess the site's suitability and talks had started about possibly using the electricity generated for the village hall.
Forestry Commission Wales, which manages Welsh government-owned woodland, has opened the door to expressions of interest from groups to run hydro power projects on its land.
The commission is working with the Energy Saving Trust, Environment Agency Wales and the Countryside Council for Wales on the project.
A total of 14.3% of Wales is covered by woodlands. Of this, 38% (126,000 hectares/311,000 acres) is owned by the Welsh government.
The commission is also talking to Ynni'r Fro - a European-funded community renewables project sponsored by the Welsh government - to ensure community groups can get technical and financial help to develop hydro projects.
Antony Wallis, head of the Forestry Commission Wales hydro team, said: "This project aims to bring about good quality hydro power projects which can help us to build a more sustainable future while offering meaningful community benefits."