Wrexham homeless inquiries soar to record level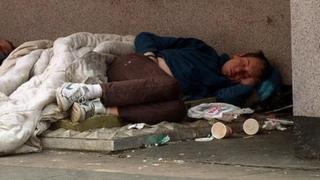 A record number of people are contacting Wrexham council for advice on homelessness.
It is estimated that more than 3,400 people will have contacted it for help in 2011/12 - a three-fold increase since 2008/09.
The council believes the rise is due to the struggling economy and a lack of affordable housing.
Meanwhile, a charity helping homeless people in Wrexham is busier than ever, and fears the situation could worsen.
A recent Wrexham council reportsaid its Housing Options and Homelessness service "is witnessing continued increase in demand with over 3,400 customers projected to visit the service for assistance in 2011/12, a three-fold increase in the number of customers since 2008/09, with no changes to the staffing capacity within the team during that time".
It added: "The cause of the rise is due to the state of the economy and a lack of accessible affordable homes."
Mark Williams, the council's strategic housing services manager, said the rate has increased more in the last couple of years than during the financial crash of 2008.
He said: "The general economic situation is making matters worse for people.
"There's also a lack of mobility in the housing market - people are reluctant to purchase or are unable to obtain the loans they need.
"It means there's going to be more pressure on the private renting sector.
"We're seeing more people approach the service for assistance."
The lack of affordable housing is also a problem, he claimed.
The number of inquiries it has dealt with this year is "without question" the highest number the council has dealt with.
Mr Williams said homelessness had not necessarily increased overall as a result of quicker intervention by the council.
However, he added: "The trends we are experiencing are very worrying, not only because of the implications for the public, but also because we have to provide a service where public finances are restricted."
The council faces a £400,000 overspend this year on money allocated for accommodating people in bed and breakfasts.
Some of that overspend is being offset against savings in other departments, reducing the overspend to about £150,000.
The charity CAIS - which helps young people affected by drugs and alcohol, as well as the homeless - claims the number of homeless people in Wrexham is increasing.
Steve Campbell, the service's outreach manager in Wrexham, said: "Without doubt there's an increase in homelessness.
"I don't think it's three-fold, but there's a marked increase in demand for our services."
While the economy is a factor, Mr Campbell saidchanges to the housing benefit systemare pushing more people into shared accommodation, therefore putting more pressure on the rental sector.
CAIS runs an outreach service for Wrexham's homeless people, including a Soup Dragon van three evenings a week and a breakfast run three times a week.
Mr Campbell said: "Our attendance is already 23% up on last year.
"By January we had surpassed last year's figures, with two months to go until the end of the financial year.
"At the moment we're looking everywhere to bring costs down.
"We're combating rising food costs. We're feeding more people with less money.
"There have been occasions where we have been snowed under and it's been difficult to cope, but on the whole we're coping and I'm sure we will be able to in the future."
However, he said the full effects of changes to the housing benefit system were yet to be seen, and warned things could get worse.
Wrexham's situation is not unique, according to the charity Shelter Cymru.
A spokesperson said: "A stagnant economy, rising living costs and the long-standing shortage of affordable homes in Wales all mean that many people are finding themselves in housing difficulties.
"The most recentstatistics from the Welsh governmentshowed that the number of households accepted as homeless was at a five year high, increasing by 15% on the previous year.
"At Shelter Cymru, our advisers have also had one of their busiest ever years, with more than 16,300 people coming to see us for help and advice, including 1,202 people in Wrexham."
A Welsh government spokesperson said its aim was to "maximise the delivery of affordable housing" for which it was aiming to release land it owns.
It added though that local councils had a responsibility to address affordable housing through local development Plans.
A spokesperson added: "We have prioritised the Homelessness Grant funding over the next two years to mitigate the impact of the cuts to housing benefit.
"We are providing more than £1.4m to local authorities and Shelter Cymru to raise awareness of the changes to housing benefit and to help people cope with cuts to housing benefit over the next two years."