River Gwenfro in Wrexham polluted after burst sewer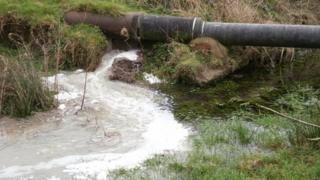 A burst sewer caused a pollution incident at a river in north east Wales, says Environment Agency Wales (EAW).
EAW said it received a report that raw sewage was being discharged into the river Gwenfro at Southsea, Wrexham.
Agency officers attended the scene and took water samples for analysis.
The company responsible for the sewer was on site fixing the problem, said EAW.
EAW spokesperson Sally Connah said: "Our investigations show that much of the sewage is now starting to disperse as it moves down the river and we have seen no evidence of any fish in distress.
"We will continue to work with the water company to ensure that the problem is resolved swiftly and that there is no further risk of sewage entering the river."