Ex-Fron Choir conductor Ann Atkinson wants male singers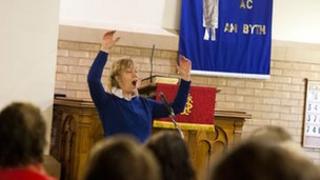 The conductor who led the Froncysyllte Male Voice Choir to fame is appealing for more men to join her latest venture.
Ann Atkinson wants to enter a mixed choir at the North Wales International Music Festival between in September.
She said she had about 70 in the choir so far, but added: "We are short of men".
Ms Atkinson was musical director of the Fron Choir, from Wrexham, who have released four albums.
The choir signed to Universal Music Classics and Jazz in 2006 after being spotted by a recording manager at a wedding, and have since travelled the world performing.
Ann Atkinson later left the choir to pursue her solo musical career.
Her latest choir was formed initially for the Wrexham 2011 National Eisteddfod.
She said: "Even during the Eisteddfod, lots of people said they didn't want the choir to come to an end.
"The mixed choir has a great deal of potential because we have a lot of singing talent and vast reserves of enthusiasm - but we are short of men, hence the appeal."
The choir will be preparing for the International Music Festival which is celebrating its 40th anniversary at St Asaph Cathedral later this year.
They will be singing The Armed Man, a mass by Welsh composer Karl Jenkins.
The choir said anyone interested can join the next rehearsal at Ebeneser Chapel, Wrexham, at 19:00 GMT on 28 February.