Flintshire-based Redrow building firm reports pre-tax profit of £15.3m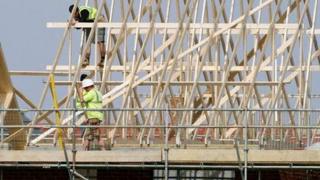 Flintshire-based homebuilder Redrow has reported half-year profits up 80% to £15.3m for the six months to December.
Chairman Steve Morgan said the improvement had been "against a backdrop of a challenging marketplace".
The Wolverhampton Wanderers owner added if planning delays were overcome the "path to recovery" was set to continue, barring any eurozone crisis.
Mr Morgan added that the outlook remained fragile, but he saw increasing confidence in the housing market.
"This should be helped further when the availability of 95% mortgages kicks in under the NewBuy scheme at the end of March," he said.
Family housing
Reporting the company's six month results, Mr Morgan said he believed Redrow was well positioned for the future, and the second half of the years has started encouragingly.
"Provided we can overcome the delays in the planning system and short of a crisis in the Eurozone damaging confidence Redrow is set to continue along our path of recovery," he added.
Mr Morgan rejoined the company he found in 1974 three years ago after it posted its worst ever results.
He said he had made family housing the company's priority because this was where he saw the overwhelming market demand.
"These results today show that our change of strategy is paying off with the New Heritage Collection going from strength to strength and private average selling prices of around £200,000."
Reservations in the first seven weeks of 2012 were also up 11% to £69m as confidence returns to the market, he said.