Chaos as Village Bakery Half Marathon road signs changed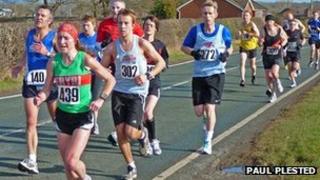 Race organisers have apologised after about 40 half-marathon runners were sent in the wrong direction when pranksters changed signs on the route.
The first people to finish the Village Bakery Half Marathon in Wrexham ran a route about two miles (3.2k) too short.
The problem came to light when the lead car spotted that signs were altered. They were corrected but not before some runners appeared in front of the car.
Wrexham Athletics Club says it and the runners have been left disappointed.
'Annoyed and frustrated'
"We have had problems in the past with the weather, but nothing like this," said Bob Frost, secretary at Wrexham Athletics Club, which organised Sunday's race.
It is not known who changed the signs, but it is thought to have happened twice during the 17th annual race, which had 470 entrants.
The athletics club says one helper, Peter Norman, was up at first light checking and marking out the course, as always on race day.
"You can imagine his surprise when driving the lead car he saw one of his signs pointing the wrong way," said a statement on the club website.
"Peter at this point corrected the sign. You can further imagine his horror when further around the course he caught up with runners who he knew should be behind him.
"It is evident that immediately after Peter had corrected the direction sign someone with malicious intent had for a second time changed it."
The athletics club has published results of the finishing line places and, as runners usually monitor their own run times, it is asking any who thinks they did not run the whole course - because their times were quicker than expected - to get in touch.
Among the competitors was Arwel Lewis, road secretary of Eryri Harriers and a member of the Welsh Athletics road racing committee.
He said he had never experienced someone changing signs on a race route in more than 1,000 competitive races.
Like some other athletes, Mr Lewis realised he had taken a wrong route when he checked his own time and went back to find the correct route, adding to his race finish time and total distance completed.
The Wrexham Athletics Club statement says: "Wrexham AC appreciate that all of you, like us, are very annoyed and frustrated by these actions as we know how hard you all train and how important an accurate time is to you.
"Some of you have travelled many miles to be with us and this we really appreciate and we can understand that you will be particularly frustrated."