Glan Clwyd hospital, Bodelwyddan: Plans approved for new A&E unit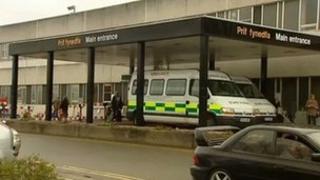 Plans have been approved for a new accident and emergency unit to be built at Glan Clwyd hospital, Bodelwyddan.
Denbighshire councillors gave the go-ahead on Wednesday for the department to be housed on the ground floor of a new three-storey building.
It will stand on the south-west corner of the hospital's main block.
The new unit will replace the existing, which is more than 30 years old, and form part of a multi-million pound redevelopment of the hospital.
Space has been allocated for a new operating theatre on the first floor of the new building.
There will be a new ambulance 'drop off' point and a dedicated A&E parking area, ambulance parking area and priority route for ambulances will be created.
Glan Clwyd's existing A&E unit is located close to the main front hospital entrance.