Action recommended over purple Ruthin shop Hardly Nickels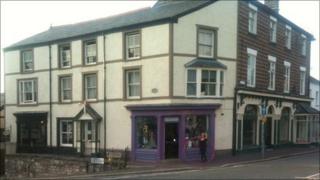 A council has voted to take enforcement action against a shopkeeper who painted her Grade II-listed shop front purple.
The council claims Hardly Nickels' colour is too bright and "detrimental" to the building's historic character.
Shopkeeper Karen Webb has claimed her curiosity shop is brightening up Ruthin and council officials are "focusing on the wrong thing".
She said she would fight the council "all the way to the high court if necessary".
She added: "If purple is good enough for the Queen, then it's good enough for my shop."
Planners had recommended taking action to make her change the colour.
The change of colour brought a number of complaints to the council, including objections from Ruthin and District Civic Society, which said purple was not in keeping with the town's conservation area.
If she then refuses to paint the property a more subtle colour she could face court action.
A report says the colour is "inappropriate and unsympathetic" to the building, and contrary to the council's policies and government guidance.
Officers recommended that Ms Webb be given one month to repaint the property.
Consent
The council says it has urged her to apply for listed building consent.
When told of the council's decision, Ms Webb said: "I'm still standing by my decision to keep the shop front purple.
"More than 200 people have signed a petition supporting me, including an ex-mayor and other shopkeepers.
"Why should I change the colour when there are other shops in the town painted blue, yellow, orange and pink. I will take it all the way to the high court if necessary and to the Welsh assembly.
"The council are behaving totally outside of their remit. If the majority of people in Ruthin didn't like the colour, I would change it.
"But I think it's beneficial - it's helping to brighten up the town at a time we're all struggling."