Yale College in Wrexham and Deeside College to merge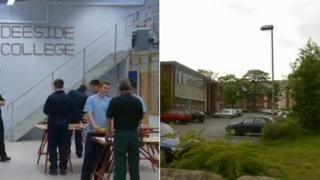 The main two further education colleges for north-east Wales are to merge.
Yale College in Wrexham and Deeside College will come together to form one institution with about 27,000 students and 2,000 staff.
It follows other mergers in the FE sector across north Wales, which has seen Coleg Meirion-Dwyfor, Coleg Menai and Llandrillo all merge.
Education minister Leighton Andrews has welcomed the announcement as "a positive response".
"This is a really exciting opportunity for the north-east Wales region," said David Jones, principal of Deeside College.
"Our aim is to create a new strong college which fully meets the skills and training needs of individuals and businesses.
"Yale and Deeside are very visionary and ambitious colleges, working enthusiastically at the forefront of education to provide easy access to the best possible choice and quality of courses."
Jasbir Dhesi, principal of Yale College, added: "We recognise that learners and employers demand and deserve access to the very best resources and learning experiences - a merger of equals will provide the opportunity for significant additional capital investment to further enhance the already outstanding resources across both colleges."
'No compulsory redundancies'
In recent years, Deeside College has expanded to include the horticultural college at Northop and the agricultural body, Coleg Llysfasi.
In their joint statement announcing the merger plans, college governors stressed that the brand names of Deeside, Yale, Llysfasi and Northop would be kept.
They also stressed that any merger would not result in compulsory redundancies at the colleges.
Alyn and Deeside Assembly Member, Carl Sargeant, has backed the decision: "This is a very encouraging announcement for learners and business in north-east Wales.
"Deeside College and Yale College are two of the best colleges in the UK, and together they have the potential to play an even bigger part in delivering world class education and training for Wales."
The move towards larger further education institutions in Wales has been championed by the Welsh government's education minister.
"Today's announcement is a positive response by both colleges to our transformation agenda and the Welsh government's commitment to encourage further mergers of further education colleges," said Mr Andrews.
"I look forward to receiving the business case for my consideration in due course."