Trees in Afan Valley's 'Little Switzerland' felled due to disease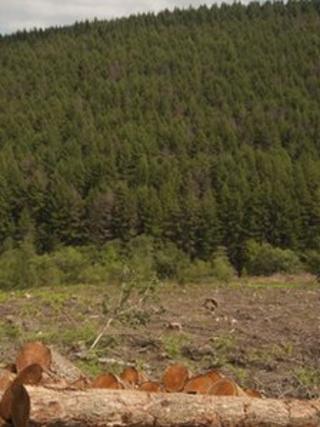 An area known as "Little Switzerland" because of its Alpine-like forestry could lose its nickname because of a tree-killing virus.
Millions of Japanese larch trees have been felled across the Afan Valley, near Port Talbot, in a bid to stop phytophthora ramorum spreading.
Forestry Commission Wales (FCW) says the remainder will probably be removed because they are at high risk.
They will be replaced with trees including Californian giant redwoods.
Owen Thurgate, of FCW, an expert on the disease, said it was highly likely all the larches would be removed from the area.
However, he added: "From a distance, it will look like a forest again within six to seven years.
"It will all be re-planted.
"We're going to try and get quite a lot of native species in there, as well as things like the giant redwood."
About 800 hectares (1,976 acres) of Japanese larches were felled from the area in 2010-2011. A further 500 hectares (1,235 acres) are due to be felled this year.
Larches are estimated to cover about 23,000 hectares (56,810 acres), or 8% of Wales' woodland.