Wrexham chosen as bilingual town to promote Welsh language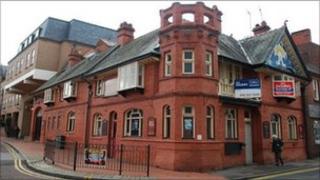 Wrexham has become the first location in Wales chosen to be a "bilingual town" in a scheme to promote the use of the Welsh language.
The project, drawn up by the Welsh government and Welsh Language Board, hopes to encourage more people to use Welsh in everyday life in the town.
Scheme supporters say they want to build on the enthusiasm brought by last year's National Eisteddfod to Wrexham.
Project consultant Cefin Campbell said it was a fantastic chance for the town.
'Generate momentum'
"People want to see more Welsh-medium education in Wrexham, more opportunities for Welsh learners to use the language," he insisted.
"It's a chance to create a focus for the Welsh language and hopefully it will draw young people in as well to use the language - and that has to be one of the main challenges."
The project also follows the opening earlier in January of a new Welsh language centre, Saith Seren, at the former Seven Stars pub in the town centre.
"It's about bringing all of that together and generating a momentum towards increasing the use of the Welsh language, especially in the home, in community and in the workplace," added Mr Campbell.