Wrexham Industrial Estate relief road work expected to cause hold-ups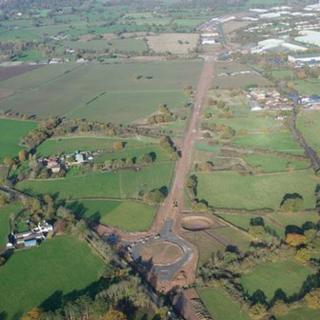 Motorists are being warned of traffic delays to Wrexham Industrial Estate due to work on a £35m relief road.
Officials advise extra journey time as roads will be closed with diversions in place for 14 weeks.
Work on the industrial estate relief road is said to be ahead of schedule. It is due to open this summer.
However, construction of the so-called JCB roundabout is said to be complex due to a large number of underground mains which have to be diverted.
The contractors said discussions had been held with all concerned parties before the decision was taken to close Bryn Lane between Hugmore Lane and Ridleywood Lane, as well as Ash Road North, between Hugmore Lane and Abbey Road.
They said the work would be completed six weeks earlier than if temporary lights were put in place.
The long-awaited relief road is being funded by the Welsh government under its regional transport plan.
The road closures will be brought in overnight on Sunday.
Wrexham council publishesroadworks information on its websitewithtraffic reports on the Wrexham Industrial Estate website