Wrexham FC fans urged to reclaim loans made to club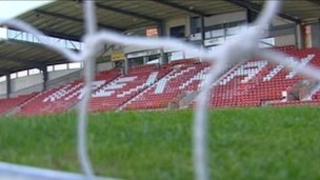 Accountants are trying to trace a small number of fans who lent money to Wrexham FC.
Scores of fans donated money towards a £250,000 bond placed upon the club by the Football Conference back in August 2011, and most have been repaid.
The accountant overseeing the return of the money said "one or two" fans could not be contacted.
The club was bought by Wrexham Supporters' Trust last year, and money was loaned by fans to pay the bond.
Accountant John McClintock told BBC Wales: "In the past week we have returned most of the money to the fans.
"However, there are one or two outstanding amounts that haven't been repaid because we have been unable to contact the people who donated.
"They range from a few pounds to hundreds of pounds."
In an earlier statement, Dragons chief executive said: "The club owes a huge debt of gratitude to those who put up the bond monies.
"They have given us the chance to compete in the competition and it would be a fitting reward if we could finish the season by gaining promotion back to the Football League."
Mr McClintock asked for anyone owed money to contact him on 0845 6807800.